KLM Catering – Chicken or Beef?
In this blog, I'll take you on a flight down memory lane to see what KLM catering was serving its passengers in the year 1965.
People love food, even onboard an aircraft. Passengers look forward to the meals and, personally, I quite like dining on board. It helps break the monotony of the flight and, if the meal is tasty, it makes the flight more pleasant. Admittedly, I'm an airline employee, but I'm saying this as paying passenger. The topic of catering cropped up as I was paging through back issues of the KLM staff magazine Wolkenridder, which I do from time to time seeking inspiration.
Served on a clean tray
The Civil Service for Aircraft Catering Provisioning – that's a rough English translation of the name of the department that supplied food and beverages on board in 1965. It was actually an umbrella term for various departments that jointly put together the product: a meal, sometimes adjusted to meet personal wishes, with dishes that suited the time of day, served on a clean tray.
What did they take along?
Let's start with a crash course in provisioning. According to the article, this came in three categories. The fixed provisioning included blankets, glassware and cutlery. The variable provisioning depended on the number of passengers and included meals and all perishable goods. And then there was the special provisioning, which included baby food and meals for passengers with specific dietary requirements. Passengers indicated their preferences when booking, and these were passed on to the kitchen.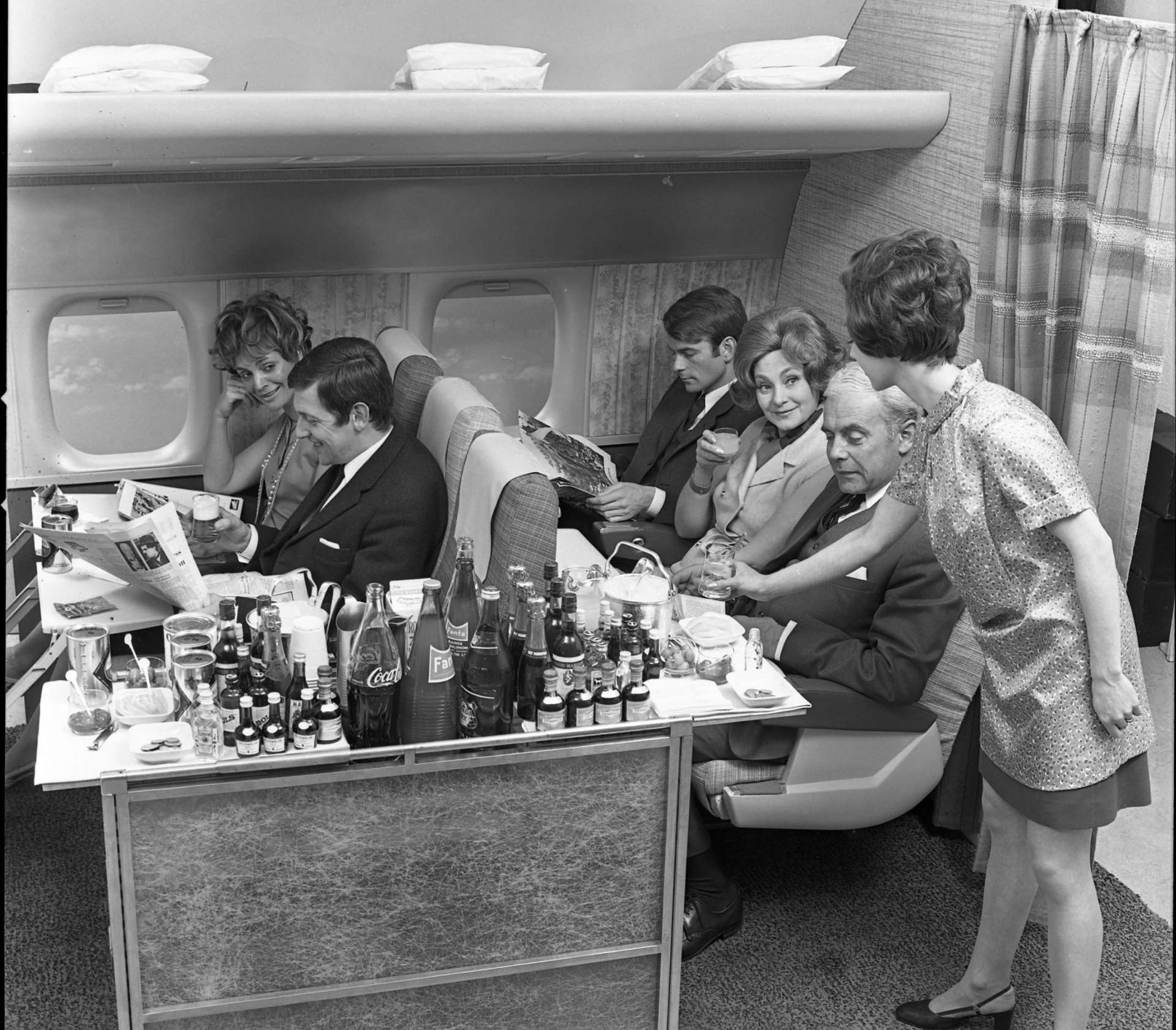 "Especially for the ladies"
By 1965, the chefs who prepared entire meals on board were a thing of the past, but there was still a whole lot of cooking going on at KLM. On the ground, the Civil Service created thousands of meals a day. The magazine article sings the praises of KLM's cooks, some of whom had won international culinary awards. And the department was always an interesting and impressive highlight of any guided tour of Schiphol. "Especially for the ladies", according the article.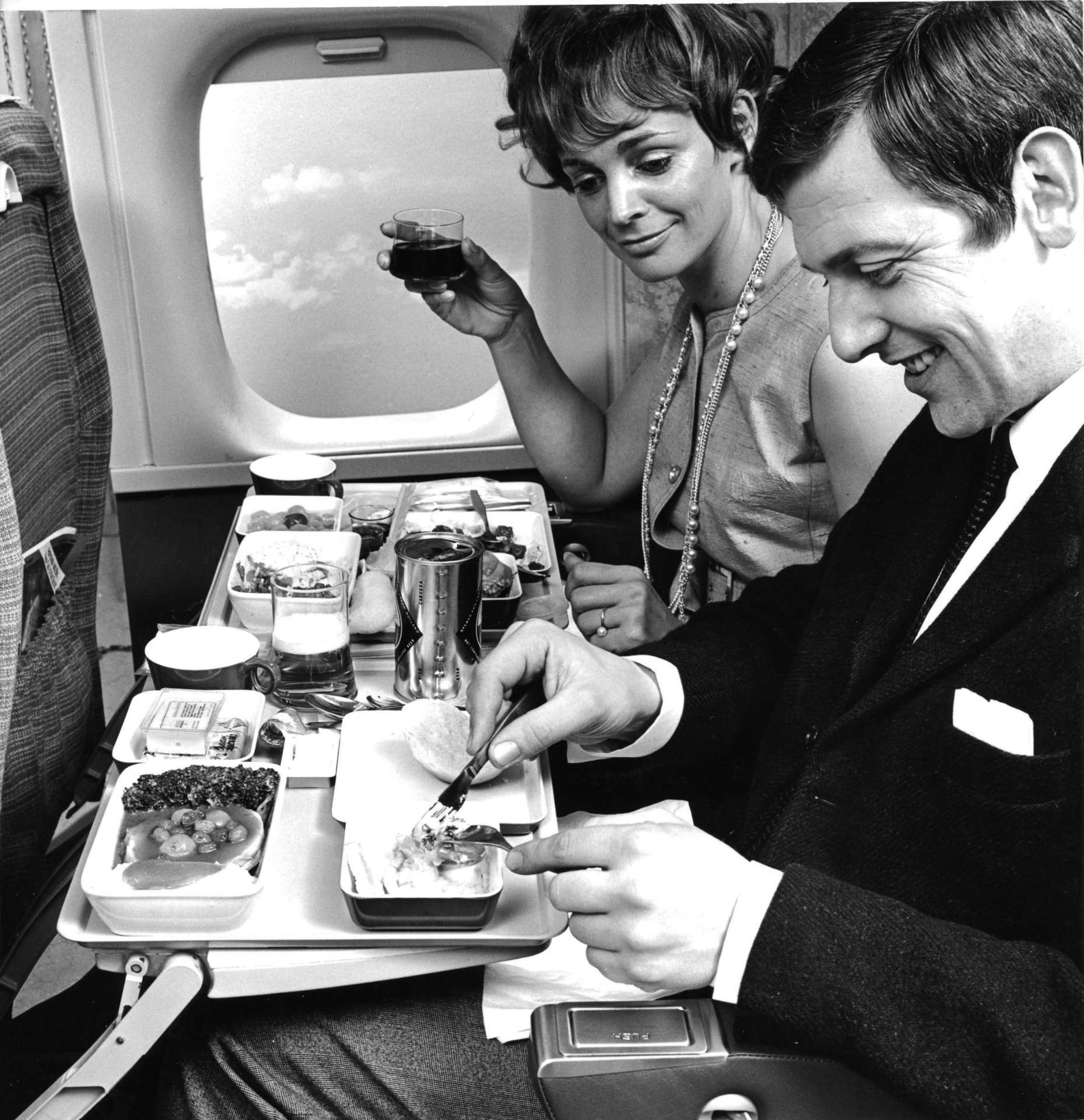 Roast chicken
I also ran into a nice little list. I love stats like these, and this overview also gives some insight into what passengers were being served on KLM flights back then, as well as the quantities involved. I should add that the catering department didn't only serve KLM, but also produced meals for around twenty other airlines. Here are the daily figures for 1965:
3,000 cold dishes, fully composed;
250 chickens, roasted and deboned;
500 kilos of meat, roasted or stewed;
3,000 eggs, boiled and shelled;
2,000 pastries;
250 kosher dishes;
10,000 trays, fully laid out;
15,000 cups, saucers and plates cleaned;
50,000 knives, forks and spoons cleaned.
Washing up
KLM carried 1.6 million passengers in fiscal 1964-65, which had risen to 25.8 million in 2012. Disposable tableware was only introduced in 1969, but by 1965 KLM had installed a mechanised dishwashing system, which cleaned the tableware with demineralised water, ensuring a no-streak finish.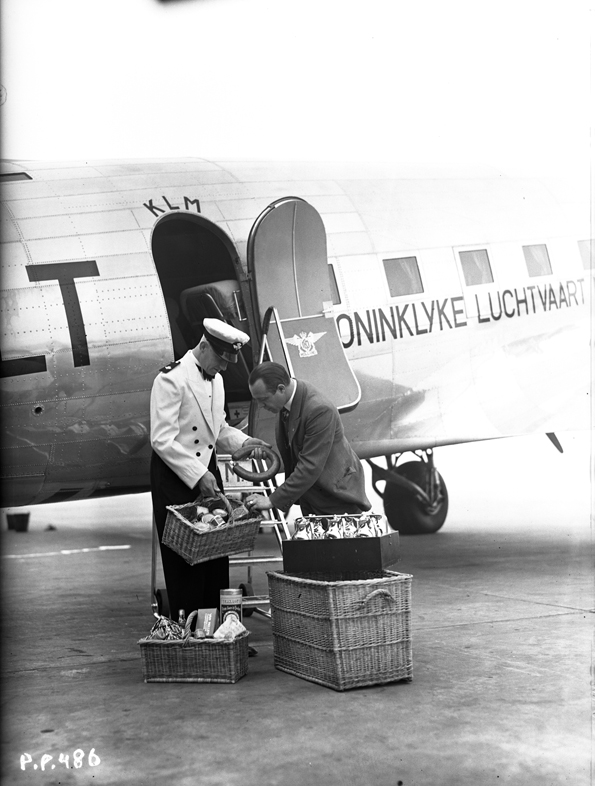 The 1930s
I'd like to end off with some fun facts about KLM's catering in the 1930s, which had only just begun and required some rather specific instructions, judging by the 1938 manual for cabin attendants: "The steward must at all times ensure that the serving of refreshments is not delayed until passengers demand them, but should instead seek suitable opportunities to offer refreshments to passengers, without being too insistent."
And on the Amsterdam-Jakarta flight, stewards were given the following instruction for the stopover in Budapest. "The passenger will take lunch in the airport restaurant. Provisioning: purchase a peach for each passenger in the months June and July." And the sourcing of liquor was also unusual: "Wine and beer shall, in consultation with captain, be purchased from the local constabulary."
If you want to know more about KLM catering nowadays, What's the Recipe for Dutch Salad is a nice read.